Individual Income Tax (IIT) Transition Period – January 1, 2022 – December 31, 2023
February 17 @ 6:30 pm

-

9:30 pm

RMB200 – RMB300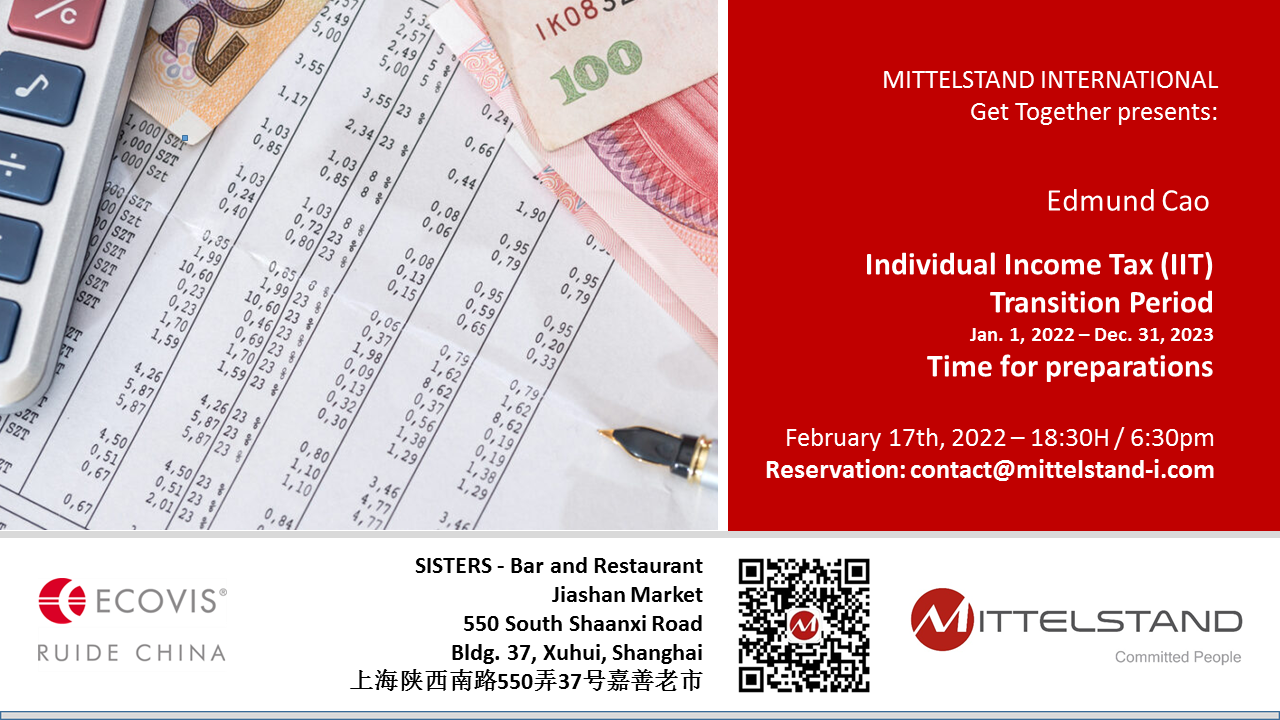 About the presentation:
On the last working day of 2021, the Ministry of Finance announced that it would continue to implement the preferential policies of individual allowance for foreigners. That is, the tax exemption of foreign individual subsidies will continue until December 31, 2023.
How to use this 2-year regulation to arrange the payroll to avoid the tax cost increase, and how to solve the special time (COVID-19) to reduce the tax emergency.
---
About the speaker:

Mr. Edmund Cao 

Edmund who obtained the legal professional qualification certificate joined ECOVIS Ruide Certified Public Accountants Co., Ltd. in 2006.

Working in the tax department as a manager, he has over 15 years of professional experience in the fields of financial consulting, tax planning and consulting, auditing, and enterprise special consulting.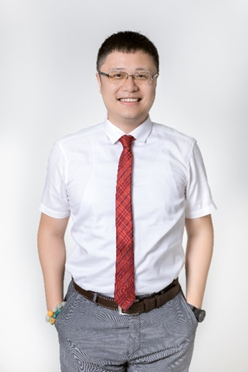 ---
About the organization:

ECOVIS Ruide Certified Public Accountants Co., Ltd. – 上海瑞德会计师事务所有限公司

ECOVIS is a leading global consulting firm with its origins in Continental Europe. It has over 9,000 people operating in over 80 countries. Its consulting focus and core competencies lie in the areas of tax consultation, accounting, auditing, and legal advice. Its offices are located in all major economic centers of the world. ECOVIS is the natural choice of professional service firms for SMEs throughout the world and an intelligent alternative for larger multinational companies for our niche specialist services. We add value to our clients with fair and transparent pricing. Our advice is solutions-based. We care for our people and encourage excellence in both their personal and professional development.

ECOVIS Ruide China, as a member of ECOVIS Group in China, we particularly customized our advisory activities to the requirements of internationally active enterprises. We work independently, objectively, and absolutely reliably in compliance with finance and controlling and mainly provide consulting services to multinational small and medium-sized enterprises. Significant for our partnership with our clients are mutual trust and long-term personal consultation and support. In the past decade years, ECOVIS Ruide got the substantial development.

www.ecovis.cn
---
Registration and Payment Terms:

Please register for this event by email: [email protected]
Until: February 12th, 2022
Should the event be overbooked, we will inform you within 2 days after having received your application for registration.
Please remit the fees to the following bank account until February 12th, 2022
Registration is completed, once we have received the participation fee.

Please understand, that the paid fee is not refundable if you do not show up to the event:

Account for Payment:

账号: 3100 1552 0000 5001 1214

 乃德企业管理咨询(上海)有限公司 – MITTELSTAND INTERNATIONAL (Shanghai) Co., Ltd.

 Please do not forget to provide us your fapiao information if you need a fapiao document for the participation fee.
---
Location:

Sisters

Bar and Restaurant

Address:

Jiashan Market

550 South Shaanxi Road, Building 37, Xuhui, Shanghai 200031

上海徐汇区陕西南路550弄37号嘉善老市