Lieferketten-Sorgfaltspflichten-Gesetz ("LKG")
January 19 @ 6:30 pm

-

9:30 pm

RMB1200 – RMB1500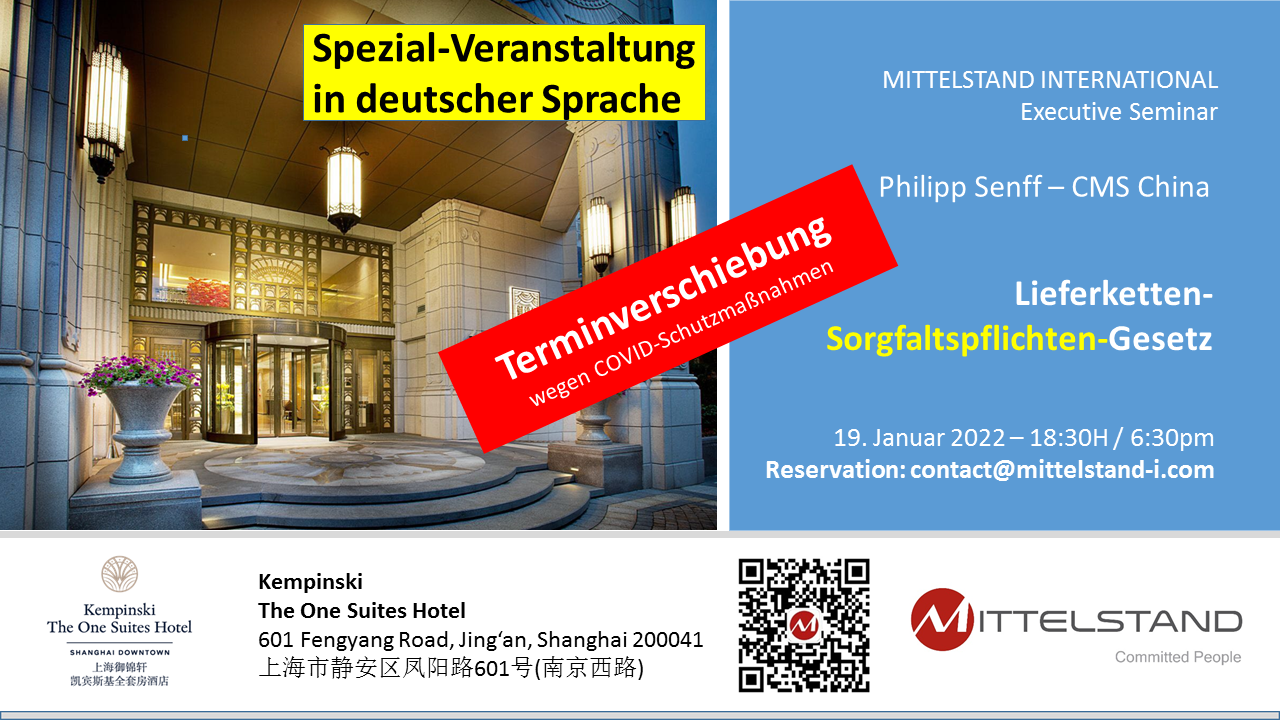 Die Vortragsinhalte 
Regulatorischer Status des Lieferkettensorgfaltspflichtengesetzes ("LKG")
Anwendungsbereich des LKG für deutsche Unternehmen im Ausland
Abgestuftes Risiko Management System
Folgen des LKG für Einkauf von Waren und Dienstleistungen entlang der Lieferkette bis nach China
Dokumentations- und Reportingpflichten
Durchsetzung des LKG
Sanktionen bei Non-Compliance mit dem LKG
Risiko der "doppelten Haftung" nach deutschem LKG und chinesischem Corporate Social Credit System
Fallbeispiele
Folgen für die Supply Chain Compliance in China
Schlußfolgerungen
---
Der Sprecher:
Philipp Senff – Partner, Rechtsanwalt
Philipp Senff befasst sich seit mehr als 15 Jahren mit dem China-Geschäft und gehört zu den führenden Rechtsanwälten für Corporate, Compliance- und Risikomanagement in China.

Herr Senff ist spezialisiert auf Compliance-Prüfungen, Internal Investigations, Compliance in Restrukturierungen, Whistleblower Management und die Entwicklung von Strategien für robuste Einkaufs- und Vertriebsstrukturen.

Das Team von Herrn Senff berät intensiv zu den strategischen Implikationen des Corporate Social Credit Systems in China (Vermeidung von Blacklistings, Verbesserung von Ratings und CEO/CFO Compliance).

Philipp Senff ist Herausgeber und Autor von mehreren Büchern zu Compliance und Risikomanagement in China.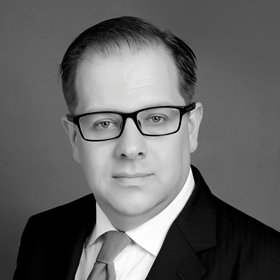 ---
Hinweis:

Zur Abrundung dieses Executive Seminars werden Getränke und kulinarische Köstlichkeiten gereicht.
---
Registrierungs- und Zahlungsbedingungen:

Bitte registrieren Sie sich für diese Veranstaltung mit email an: [email protected]
Registrierungsschluß: 12. Januar 2022
Sollten wir zum Zeitpunkt Ihrer Registierung bereits ausgebucht sein, teilen wir Ihnen dies innerhalb von 2 Tagen schriftlich mit. In einzelnen Fällen bieten wir dann eine Wiederholveranstaltung an.
Bitte bezahlen Sie Ihre Teilnahmegebühr bis zum 12. Januar 2022 auf das nachfolgend aufgeführte Bankkonto.
Der von Ihnen bezahlte Teilnahmebeitrag ist nicht rückerstattbar!

Teilnahmegebühr pro Person:

Bankverbindung:

账号: 3100 1552 0000 5001 1214

乃德企业管理咨询(上海)有限公司 – MITTELSTAND INTERNATIONAL (Shanghai) Co., Ltd.

Bitte geben Sie uns Ihre Fapiao Daten bekannt, sollten Sie eine Fapiao benötigen.

Please do not forget to provide us your fapiao information if you need a fapiao document for the participation fee.
---
Veranstaltungsort:

Kempinski The One Suites Hotel

Veranstaltungsadresse:

601 Fengyang Road – parallel zur West Nanjing Road

Jing'an District, Shanghai 200041

上海市静安区凤阳路601号(南京西路)